Bitwig Studio 3: Now in Beta
Enter The Grid.
Modularity has been at the core of Bitwig Studio from the beginning. Devices can be nested, clips are containers, modulators exist everywhere, and practically anything can be dragged anywhere. But with Bitwig Studio 3, we are zooming out so you can push in.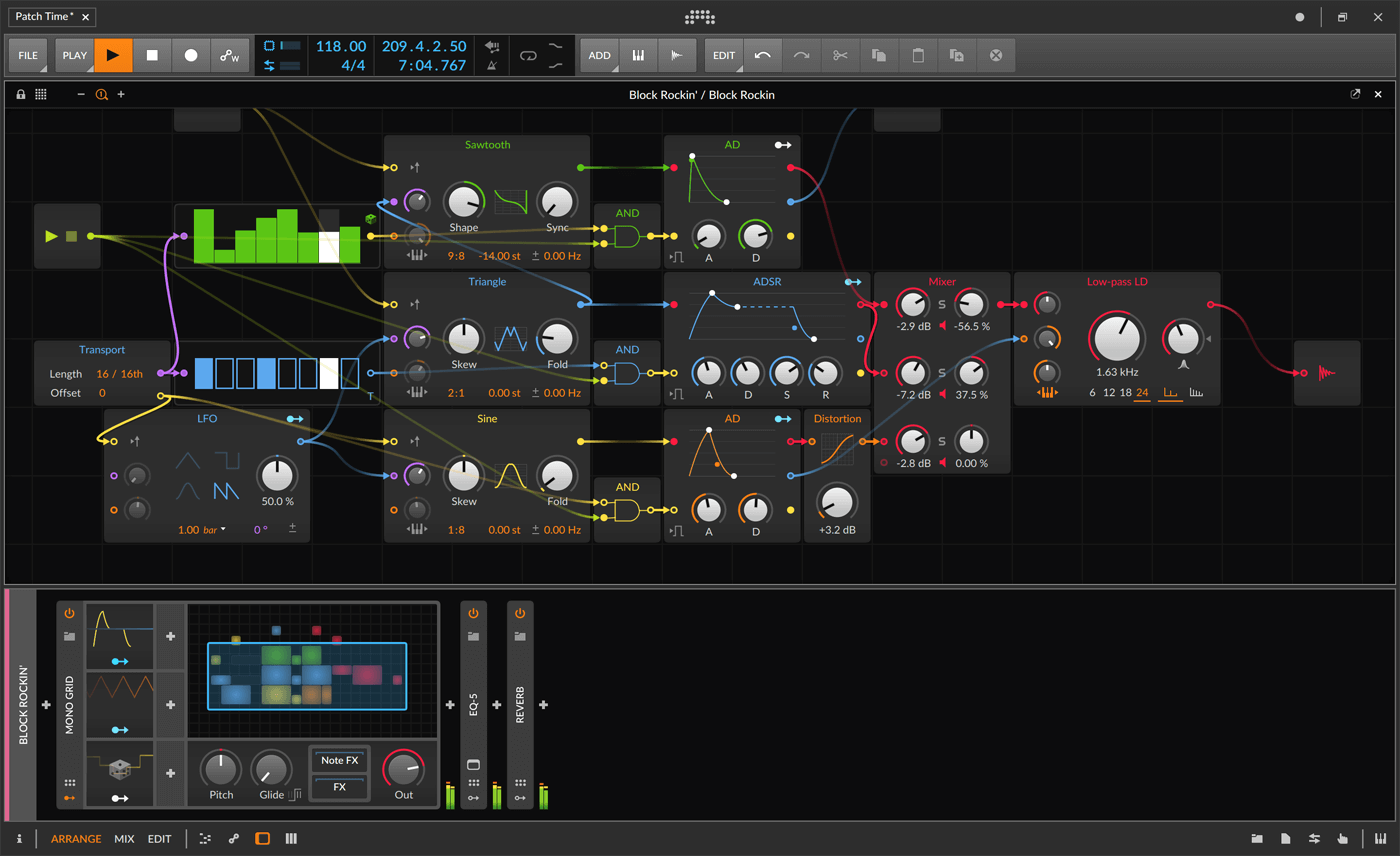 The Grid is an open modular environment that powers a family of new devices in Bitwig Studio 3: Poly Grid and FX Grid. With a vast library of modules and a supersonic workflow, you'll be creating your own unique sounds immediately, and in high-fidelity. Simply add a Grid device to your project and start patching. It's fun.
The Grid includes:


Fully-modular sound design
Fantastic sound quality
140+ modules
Any signal, anywhere
Lighting-fast workflow
4x-oversampled, stereo signal path
Construct a polyphonic synthesizer from scratch in one session. Create an adaptive audio effect with your signature sound. Experiment with generative drones until you find a new way to perform. Or simply create the undefinable. Patching is effortless, giving full reign to your creativity.
Availability Information
We're currently beta testing Bitwig Studio 3, and anyone with a Bitwig Studio license with an active Upgrade Plan can join. Log in to your user account, there you'll find links to the beta installers.
A quick note on beta software: do not use beta software to work on important projects! And bugs/issues can be reported to beta@bitwig.com.
Expected release of Bitwig Studio 3 is Q2 2019, and it is free for everyone with a Bitwig Studio license with an active Upgrade Plan.
Signal Achievements
We Focused on Technology; You Focus on Sound.
The technology powering The Grid is as it should be: working, felt, and transparent so you can focus on the big, sonic picture. Here's a taste of what we've done.
All signals are created equal. In The Grid, all signals are interchangeable so any out port can be connected to any in port. While this is rarely the case in other programs, Bitwig Studio has made it so. Try something crazy; you (probably) won't get electrocuted.
Every signal is stereo. Yes, every audio cable is stereo, but so are all control signals as well. By altering any of these control signals, their corresponding audio will be affected. And plenty of modules are ready to help you Stereo-ize your signals…
Getting more with less cords. For signals that are needed regularly, we have the option of pre-cords. These clickable icons appear beside in ports allowing common connections to be made wirelessly. And with The Grid's quick workflow gestures, new modules can be dropped directly onto ports, automatically wiring them into your patch. Work smart instead of hard.
Phase is the place. After pitch, timbre, and loudness, phase is the essential element of sound, capable of driving basic time functions, complex modulation synthesis, and so much more. With a dedicated category of phase modules, we have made these concepts freshly accessible and newly relevant for modern music production.
Those are just a few examples of what makes The Grid a special place. And it is all the more special since the technology just works, allowing you to focus on your new sounds.
Audio and So Much More
A New World of Possibility in Bitwig Studio
Best of all, this new system is a completely native part of Bitwig Studio, giving you so much more to work with than audio.


Grid devices can be nested or layered along with other devices and your plug-ins, and they are controllable from the same Open Controller API.
Song position is available as a sample-accurate signal, locking your work in The Grid to your project's timeline.
Draw Arranger or clip-based automation for any parameter in your new grid patches, even in combination with Bitwig Studio's existing modulators.
Modules like envelopes, LFOs, and sequencers all have modulator outputs as well. And just as Bitwig Studio's modulators can control any parameter in The Grid, any grid signal can be used to modulate child devices.
Your hardware modular rig is completely integrated, with dedicated grid modules for sending any control, trigger, or pitch signal as CV Out and receiving any CV In.
That's just scratching the surface. And soon, you will be too.
A Word On Modularity
Coinciding with our announcement of Bitwig Studio 3, we'd like to take a moment to look back at our perspective on software and how it has informed our journey, up to today and beyond.