What Is Bitwig Studio 2
Learn all about it...
Bitwig Studio 2.0 saw the light of day in early 2017, and with it, we introduced a large number of improvements and new features. Since then, we released versions 2.1, 2.2, and now 2.3, further advancing Bitwig Studio's capabilities and turning a few heads along the way.
Here's a quick overview of what Bitwig Studio 2 is all about:

A re-conceptualized modulation system with 30+ brand new Modulators
Numerous device updates, including remote controls, dynamic displays, spectrum analyzers, expanded device views
A wide selection of new devices
Industry-leading hardware integration, with multiple sync options and several dedicated MIDI and CV devices
Fades and crossfades
VST3 support
Massively improved time-stretching
...and much more!
Bitwig Studio 2.3 is Out Now
Sometimes Big Updates Come with Small Version Numbers
Our biggest point update yet is available now. Here's what's new:

Phase-4 is our brand new phase manipulation synthesizer
Expanded Device Views give some key devices the extra space they deserve
Time Signature Changes
New and Improved Time Stretching, including Elastique from Zplane
New devices: Instrument Selector & FX Selector
Voice Stacking opens up incredible possibilities in sound design
New modulator: Voice Stack
Sound Content Update: excellent presets from renowned sound designers
Read all about these exciting new features below, or check out the changelog here. If you want to learn more about Phase‑4: how it works and the background story, read the Phase-4 story...
Get Bitwig Studio 2
Bitwig Studio 2 is available online and in stores.

399 USD / 379 EUR

For existing customers we offer an upgrade to the latest version of Bitwig Studio.

169 USD / 159 EUR
A UNIVERSE OF MODULATORS
Introducing A New Modulation Paradigm
Bitwig Studio has one of the most flexible and powerful modulation systems of the industry, offering nearly endless possibilities; a big step towards a fully modular device architecture.
Each device in Bitwig Studio 2 (both internal devices and external plug-ins) have modulation slots where you can load individual modulators. Bitwig Studio 2 comes with 30+ brand new modulators; from standard modulators like envelopes and LFOs – to more unique modulator types like Random, Select-4 and Math.
Add an unlimited number of modulators to a device, and assign each modulator to any number of parameters with ease and flexibility. Modulators can also be interconnected for truly dynamic and expressive sound design possibilities.
When using internal Bitwig instruments, many modulators can be set to polyphonic mode for per‑voice modulation, something previously only seen in closed systems.

NEW DEVICES
Because we love devices.
With Bitwig Studio 2, we are expanding the standard device collection. Here's a list of the new additions.
Phase-4
Phase Manipulation Synthesizer
Meet Phase-4, a four-oscillator synthesizer powered by phase modulation and phase distortion. Drawing inspiration from legendary digital synths like Yamaha's DX7 and Casio's CZ series, Phase-4 is capable of vintage sounds that we know and love, but it goes further, greatly expanding on these phase manipulation concepts.
Check out the sound examples below:
Amp
Flexible and powerful amplifier simulator.
Inject a bit of virtual analog grit into your sounds with the new Amp device, a remarkable piece of amplifier-simulation technology. The Amp consists of pre and post sections with individual EQs, a drive section with 8 drive types and a cabinet simulation offering advanced cabinet, coloring and mix settings.
Audio & Note Effects
Further new additions to our device family.
Dual Pan
Individual per channel pan control.
DC Offset
Add DC offset to an audio signal.
FX Selector & Instrument Selector
Switch between exclusive effect or instrument layers, with only the active layer using CPU power. Includes smart switching, free of clicks and pops.
Phaser
A classic audio effect. Happy phasing!
Pitch Shifter
Shift audio an octave up or down, or anything in between.
Spectrum Analyzer
Visualize and analyze your audio signal, or feed it two separate audio inputs for comparison.
Time Shift
Fine-grained time adjustment control in the audio domain, at any point in your device chain. Use it to sync things up or as a creative tool.
Treemonster
An organic amplitude-controlled zero-crossing-counting ring modulator.
Multi-Note
Use this note effect device to create chords from incoming notes.
Note Length
This device transforms all notes to a defined length.
Note Echo
Like a "normal" echo but for notes, packed with lots of creativity.
Note Latch
This device will hold any incoming note until it receives another note.
Note Velocity
Transform the velocity of incoming notes.
Note Harmonizer
Transpose incoming notes in real-time to a defined harmonic scale.
Better Hardware Integration
We speak hardware.
Hardware integration is a large part of what makes Bitwig Studio 2 unique. MIDI handling, note timing, and latency compensation are aspects of this. Other prominent features include MIDI Clock Sync and Ableton LINK. But where Bitwig Studio 2 really stands out is our collection of hardware integration devices.
The new MIDI devices further extends our MIDI connectivity, whereas the new HW CV devices bring something truly revolutionary to the table: one of the fastest and most flexible hardware–software integration yet. With our dedicated HW CV devices you can seamlessly integrate your analog hardware into your software workflow, and vice versa.
MIDI CC
Place this device inside our HW Instrument or Effect devices to send CC messages to your hardware. This provides elegant and detailed control over hardware parameters.
MIDI PROGRAM CHANGE
A device that allows you to control program changes of your hardware or VST plug-ins from Bitwig Studio.
MIDI SONG SELECT
Use this device to send MIDI song select messages to external devices, for instance to change patterns on a drum machine.

HW CV Instrument
With this device, you can send notes from Bitwig Studio as CV and Gate through an audio output on your audio interface, to control analog synths, eurorack modules, and other hardware.
Send audio from the oscillator back into the device to tune things properly, with a detailed pitch offset graph.
HW CV Out & HW Clock Out
HW CV Out is a simple device to send a CV signal to an output on your audio interface. Essentially a software knob to control hardware, via automation, modulation, and expression.
With the HW CV Clock device, you can send CV clock and reset to audio outputs, with numerous time settings.
DEVICE UPDATES
More creativity, more control.
We've made lots of enhancements to our existing devices, improving both sound quality and usability. Several devices now include a spectrum analyzer and dynamic display panels. In many devices, we've reorganized, redesigned, and added new features. With Bitwig Studio 2, we've also improved visualization of parameters, movement, and signal flow. We invite you to explore the device collection for yourself. Read about some of the highlights below.
Expanded Device View
Some devices simply deserve more space.
New since Bitwig Studio 2.3, panoramic view and controls are now available for seven of our devices: EQ-5, FM-4, Phase-4, Polysynth, Resonator Bank, Sampler, and Spectrum Analyzer. Simply click any Device Interface Button to fire up the large view and enjoy.
POLYSYNTH UPDATES
Since Bitwig Studio first came out, Polysynth has been our go-to synth for musicians and sound designers. With Bitwig Studio 2, we've expanded our Polysynth's feature set further, by adding several oscillator mix and filter waveshaping modes.
With improved unison capabilities, you can now control the stereo width and placement of the oscillators. We've also equipped Polysynth with a sweepable high-pass filter and a feedback loop around the filter and amplifier section.
Voice Stacking
We're introducing voice stacking for a selection of our internal instruments, opening up incredible sound design possibilities. With voice stacking, you can create thick, lush sounds that were previously out of reach so say hello to next-level unison.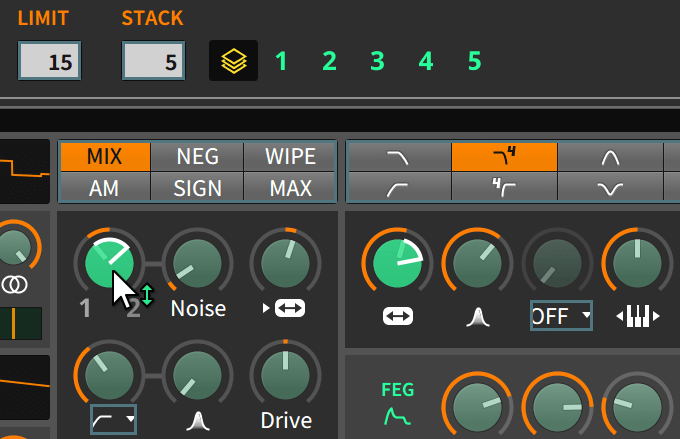 Dynamic Displays Everywhere
With the overhaul of our device collection, we've equipped several devices with spectrum analyzers and dynamic display panels.
New And Improved Time-Stretching
New & improved algorithms to cover your time stretching needs.
We give Bitwig Studio a generous boost in the time-stretching department by improving our existing algorithms and adding a number of new ones in the granular and spectral domains, including industry-leading third-party technology.
We're excited to welcome four flavors of Zplane Elastique algorithms to the party, with full formant control. We extended the functionality and quality of our own Stretch and Stretch HD algorithms, and add two new ones: Slice – slices audio at onsets – and Cyclic – retro stretching inspired by classic cream colored samplers.
Fades And Crossfades
Your fast workflow just got a lot faster.
You can now create fades and crossfades for audio clips in the arranger timeline or audio editor. Additionally, you can create fades for audio events inside clips - for truly fast yet flexible editing. Naturally, the curve slopes of all fades can be adjusted.
Easily edit fades by hovering the mouse cursor over clip or event boundaries, and then drag the fade handle when it appears. Crossfades are automatically created when you move clips so they overlap.
Ableton Link Support
Effortless sync across ecosystems.
Since its release, Ableton Link has changed how musicians sync workstations across technologies, and with Bitwig Studio 2.2, we join the network.
Make Bitwig Studio the centerpiece – or cornerstone – of your production and performance setup. This new technology ensures everything is running in time and on the beat.
SMART TOOL SWITCHING AND IMPROVED EDITOR WORKFLOW
With Bitwig Studio 2, we've improved the efficiency of our tools. You can now achieve many standard tasks without having to swap tools: depending on where you click, you can select multiple objects or time segments, edit fades, or zoom and scroll.
NOTIFICATIONS
A new notification system will show you important messages in a streamlined and non-intrusive format.
DASHBOARD
The dashboard is a place to collect a number of things that were previously spread out in the software, such as locating and opening projects, configuring settings, installing packages, and accessing help resources.

NEW MENU SYSTEM
The context-sensitive and touch-friendly menu system in Bitwig Studio 2 is built to vastly speed up your workflow.
What Else?
Wait, there's more...
Here are some other notable updates you might want to read about, in no particular order:
Remote Controls
Every device now has a Remote Controls panel, where you can assign remote control access to any parameter in the device chain.
MIDI Timecode
Bitwig Studio 2 can send out MIDI time code (MTC), to sync up with certain hard- and software.
Controller API Improvements
Our controller API is more consistent and performs better. You will get improved and immediate feedback while scripting.
VST3 Support
Including per-note expressions and sample-accurate automation.
Time Signature Changes
Add time signature markers in your Arranger Timeline, and the timeline grid will be updated accordingly. You can now also set time signature properties for clips, offering a flexible note grid to satisfy your musical needs
MIDI Clock Sync
Sync Bitwig Studio 2 to an external MIDI clock, either in hardware or software.
On-Screen Keyboard Panel
This input panel, now included in all display profiles, gives you a handy way to play notes directly on your screen, using touch or mouse.
Dual Studio/Touch Display Profile
With this new display profile, you enjoy the best of both worlds: excellent touch input optimization on one screen, and full feature view on the other.
New Sound Content
Our sound content library is growing rapidly, with the addition of a myriad of presets and several new packages: Polarity Tools, Rare Organs & Keys, Bösendorfer Grand Piano, and more.