Microsoft Surface + Bitwig Studio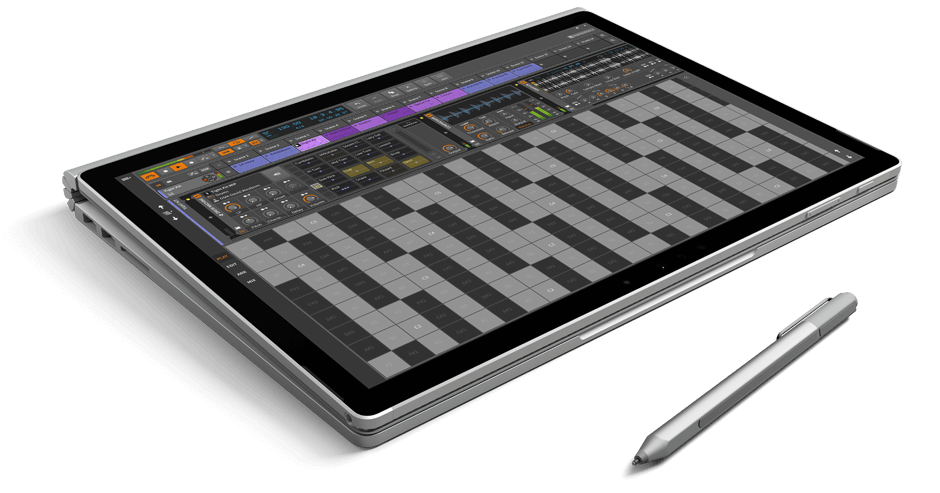 Some time ago, Bitwig discovered the Microsoft Surface, the light and powerful hybrid laptop tablet running Windows 10 featuring several input modes: keyboard, mouse, trackpad, multitouch, and pen. We immediately saw the opportunity for a major leap forward in music creation and performance. By taking advantage of Microsoft Surface features, Bitwig Studio becomes the heart of a studio or stage. Testing the Surface Pro quickly convinced the Bitwig Team that the time has come to deliver a groundbreaking multitouch experience.
Our developers set to work on a multitouch prototype of Bitwig Studio to share with Microsoft. The potential of Bitwig Studio integrated with Surface Pro was immediately recognized by Microsoft, and a vibrant discussion began about the future of music software between both companies. In the months that followed, Bitwig delivered the world's most advanced multitouch experience for music software, Bitwig Studio.
With Bitwig Studio and Microsoft Surface, the next level is now at your fingertips.
Beneath The Surface
In this video Bitwig Certified Trainer Thavius Beck folds Surface into his creative process, using Bitwig Studio among other software. We see how its versatility has changed the way he composes, performs, teaches. This video from Microsoft clearly shows us why Microsoft Surface is the ultimate solution for musicians.
"To be able to have something with that much horsepower, where I'm not running scaled-down versions of applications I normally use is definitely game changing."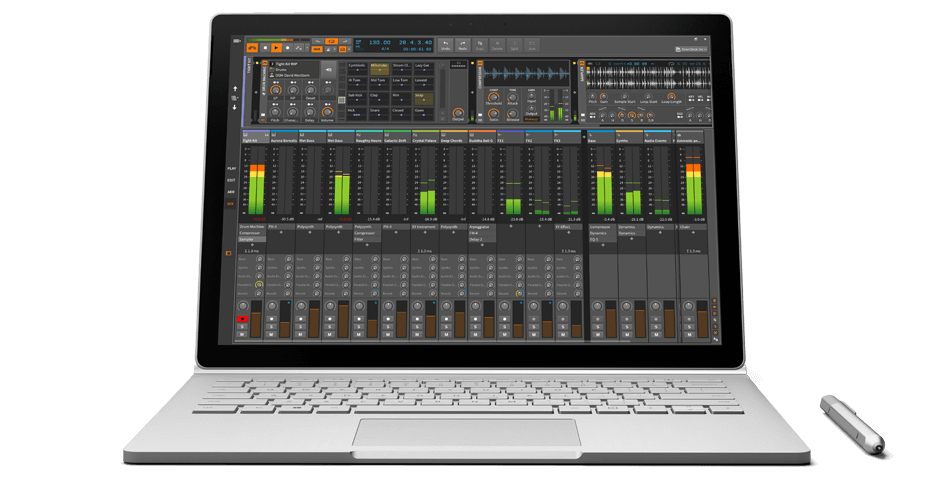 The Ultimate Laptop For Musicians
The Surface Book is the first of its kind. Paired with Bitwig Studio, this innovative and perfectly crafted laptop is a creative powerhouse, designed to adapt to the way you make music – with touch, a Pen, or a mouse.
"Today, we're excited to acknowledge the announcement of our partnership with music industry leaders who have designed new music making experiences for Surface Book and Surface Pro. ...you've never made music on a laptop like this before."
Bitwig At The Microsoft Keynote
Summer 2015
Managing Director of Bitwig, Placidus Schelbert, took to the stage at the Microsoft Keynote during Summer NAMM, 2015. In his brief introduction Placidus highlights the beginnings of the Bitwig collaboration with Microsoft, and the unique opportunity revealed when Microsoft Surface and Bitwig Studio are combined.
Surface is transformed into a true instrument of its own kind, placing the controls precisely where they belong: front and center, a one-of-a-kind command control experience for the next generation of artists and producers.
The First Public Demo of Bitwig Studio Surface Integration
Bitwig Certified Trainer Thavius Beck was among the first to take the latest development from Bitwig for a spin – A Bitwig Studio prototype running natively on Microsoft Surface Pro 3 with complete multi-touch integration.
In this video, Thavius offers the very first public demonstration of a Bitwig Studio prototype optimized for Microsoft Surface.
Filmed in collaboration with Microsoft and A3Exchange during the Microsoft Keynote at Summer NAMM in Nashville, TN.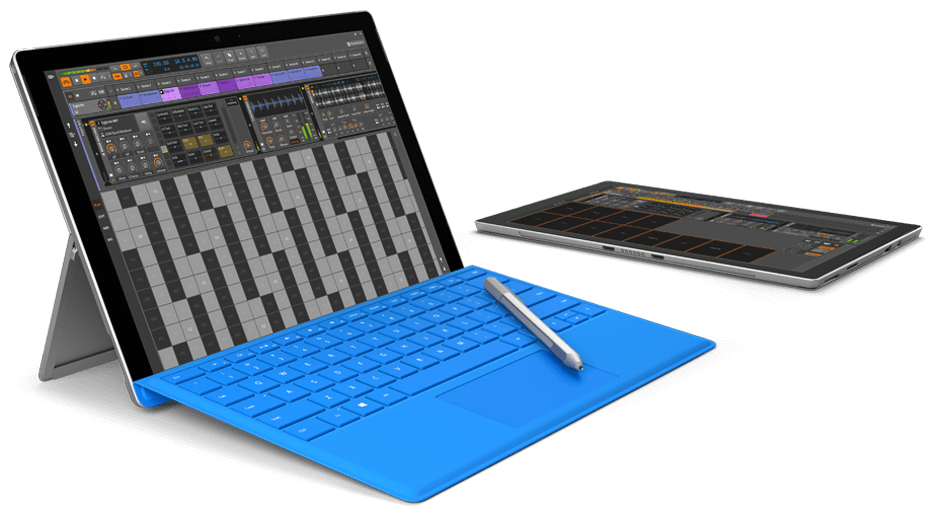 Get The Full Experience
The best way to understand what this moment means for artists and producers is to try out Bitwig Studio on a Microsoft Surface. Our friends at Microsoft have installed Bitwig Studio in every Microsoft Store throughout North America, so you can experience the groundbreaking technology for yourself.
If you don't already have Bitwig Studio, visit our webshop.
The Bitwig Store
And for the ultimate laptop, visit our friends at Microsoft.
microsoft.com/surface
October 26, 2015