Get Your Bitwig Trainer Certification
Worldwide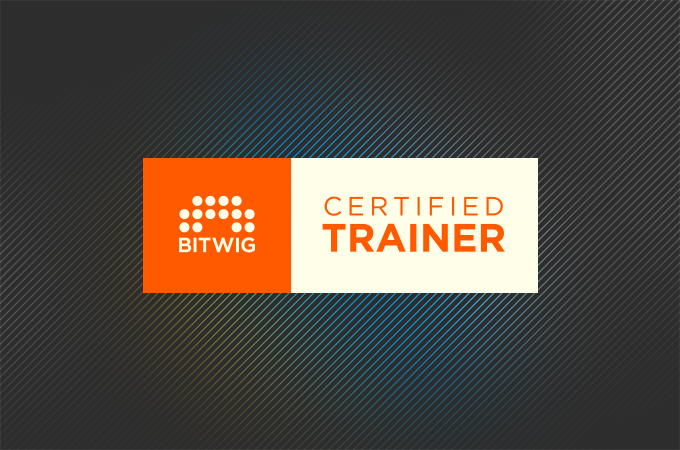 An Introduction to Trainer Certification
The Bitwig Studio community is expanding fast, and with it the need for learning resources and professional tutoring. To meet this growing need we offer professional certification for Bitwig Certified Trainers.
We invite you to join an exclusive group of Certified Trainers and get your certificate, an official mark of excellence.
The Next Workshop
Our next Trainer Certification event starts June 20, 2022. The workshop is organized in collaboration with Ask.Video, and moderated by master instructor and certified trainer Thavius Beck. Our next trainer certification begins on June 20th. The class consists of four interactive sessions, finishing on June 30th with final presentations from all participants.
This is a live interactive online workshop, which means that you can participate from anywhere in the world in the comfort of your own home or studio.
See the Ask.Video classroom page for price, and further information. Space is limited, sign up today.
How To Sign Up
1. Enroll and pay for the class over at Ask.Video
2. Complete our application form
Only applications from enrolled students will be considered for this exclusive class. If not accepted, you will receive an immediate full refund.
What You Get
Upon successful completion of the Bitwig Certified Trainer workshop, you will receive the following:
Listing on the Bitwig Certified Trainer page
Printed certificate and digital Certified Trainer badge
Authorization to use the Bitwig Certified Trainer logo and banner
Invitation to participate in initial beta testing rounds for future updates of Bitwig Studio
Dedicated support
Special marketing of your events
The Requirements
To qualify as a Bitwig Certified Trainer you should:
...have a deep and thorough knowledge of Bitwig Studio
...possess advanced music production and sound design skill
...be able to teach in a creative and inspiring way
...own a Bitwig Studio license with an active Upgrade Plan
Meet Your Instructor
About Ask.Video
Ask.Video is a premier online learning platform, and a long standing partner of Bitwig. Since the launch of Bitwig Studio 1 back in 2014, Ask.Video has continually created extensive learning content, including several video courses, covering all aspects of Bitwig Studio. With The Academy, Ask.Video offers online classrooms, perfect for interactive events like the Bitwig Trainer Certification workshop.